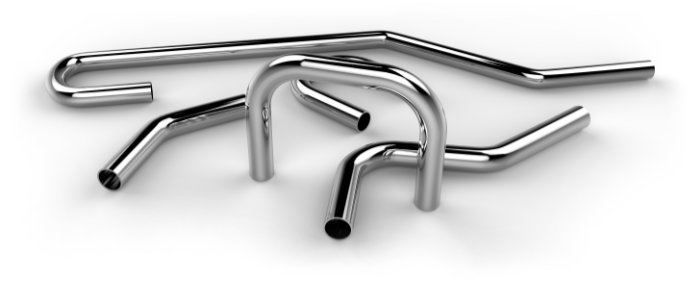 When it comes to tube bending, there are a variety of options you can go with. Bending methods such as crushed bending, mandrel bending, rotary draw bending, and others. The good news is that even if you are not sure what type of bend you need, we can help you. At Detroit Tube Products, we have extensive experience in tube bending, and we can recommend the exact type of bending you need.
Section Benders
Section bending is sometimes referred to as profile bending, either way, it will work with all types of tube shapes. From square to rectangular any type of shape, a tube can be bent. Also to perform a section bend a specialized machine is used.  This machine can perform bends on all types of odd-shaped tubes, from T shape to U profiles and beams.
The section benders usually have 3 rolls that you feed the tube through. This performs the bend using force on the tube. In addition there actually different types of machines to choose from when performing this bend. There are double pinch, pyramidal, and single pinch machines. At Detroit Tube Products, we can help determine which type of bend that best suits your project. With over 100 years of experience, Detroit Tube Products is the leading tube bending service provider in Michigan.
No matter if you need a tight radius bend or a larger tube, we can handle it. In addition, we strive to meet all deadlines and have all projects done on time and on budget. Also, no matter what industry you are in, we will work with you. Throughout the years we have serviced a huge selection of industries from automotive to HVAC, we help them all. Finally, give us a call today at 313-841-0300 or contact us now and see what we can do for you!

This last year has been pretty strenuous on many businesses. Full production was almost impossible for a lot of companies. People all across the country and the state were and still are feeling the sting of the COVID 19 shutdowns. Now Detroit Tube Products is back to full production and we are taking and filling orders for all tube bending products. In addition, we are looking for more skilled workers. Please contact us for employment opportunities.
Safety Protocols For Full Production
We are very thankful to be open and serving our loyal customers once again. But we do have safety protocols in place to ensure the health of our workers as well as our customers. The CDC and the state of Michigan have set guidelines for businesses to follow during this pandemic. In addition, we also follow some extra steps we have to ensure safety.  First, there are no walk-ins. You must either call or place an order online and notify us once you have arrived.
If you are picking up in person, you must wear a mask at all times in the building and you will be asked travel and health questions as well. Second, we make sure to sanitize surfaces and our crew also wears masks as well, while maintaining social distancing protocols. Of course, the safety of everyone at Detroit Tube Products is a top priority.
While closing our doors for a short while was a major inconvenience to us and our customers, we are glad to be able to provide great services to you today. When it comes to steel bending services, the best choice in the Metro Detroit area is always Detroit Tube Products. While the pandemic is an unfortunate event, we are proud to say we are here for you. Finally, give us a call today at 313.841.0300 and see what Detroit Tube Products can do for you.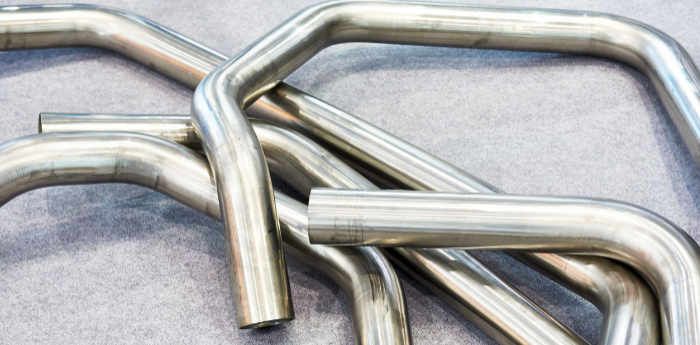 When looking for proper steel tube bending services, look no further than Detroit Tube Products. At Detroit Tube Products, we are known as one of the best tube bending companies in the industry. Also, with over 100 years of experience, we can deliver any type of tube bend you need to get the job done right!
Michigan's Best Steel Tube Bending Services
Detroit Tube Products can provide tube bending services for any type of steel tube. Also, the shape of the tube makes no difference to us, from oval to square we can bend it all. In addition, we have all types of methods we use to achieve the proper bend. From compression to rotary draw bending, we can determine what method works best for certain jobs. A rotary draw bend uses a method of clamping the outside diameter and then drawing it over a form with a similar radius.
When it comes to rotary draw bending, the operator wants to make sure everything remains clamped and watch out for any type of wrinkling. Paying attention to clamping pressure during the bend. Without enough pressure, the tube will slip during the bend. Also, with too much pressure you may damage or wrinkle the steel tube as well. As far as materials go, we can bend just about any material. Materials such as steel, copper, aluminum, bronze, and other materials can be bent.
As we said earlier, Detroit Tube Products have been in business since 1922, and we have extensive tube bending knowledge. Many industries use our services such as aerospace, automotive, locomotive, forestry, and many more. No matter the diameter or size we can handle the bend. Finally, give us a call today at 313.841.0300 or contact us today for more information about all our available services. Detroit Tube Products is Michigan's premier tube bending company!