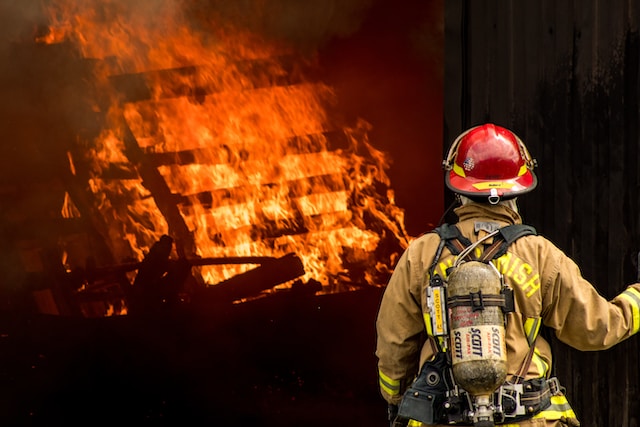 Did you know firefighter training equipment requires custom tube fabrications and tube bending? 
Detroit Tube Products provides our services to a variety of industries including municipalities. Over the years we have created products for various clients for interesting projects or concepts like ghost kitchens. As a result, these fabrications serve a specific purpose. So, it might not be shocking that custom tube bending is often used in firefighter training. In fact, custom fabrications are required to guarantee that firefighters are prepared for any situation.
Tube Bending in Firefighter Training Equipment
Firefighters need to go through extensive training for their job. After all, when there is a fire, lives are on the line. During their training period, firefighters need to prepare for different hazardous conditions to save lives. As a result, various structures have to be built for drills and practice. These include apartment buildings, houses, commercial properties, and even boats. While they cannot build a new structure for every drill, they can change the conditions by creating parts for fire scenarios.
This is where tube bending comes in. In order to make the fire scenarios accurate, custom parts often have to be made. Due to the specific nature of these parts, tube fabrication is one of the only ways to get everything you want to fit your specifications. If they need parts to facilitate gas fire scenarios, you often need specific pipes that can create the scene but still be able to turn off. Some of these parts can also be used to produce exterior and interior fire scenarios. Furthermore, mobile training units often require ready-made materials as well.
Tube Fabrication for Public Service
Detroit Tube Products works with various clients that provide services and products that help a community. Many of our services are proprietary to companies, however, some like providing equipment to municipalities provide a public service. No matter the project, or task Detroit Tube Product can deliver.  We love a challenge!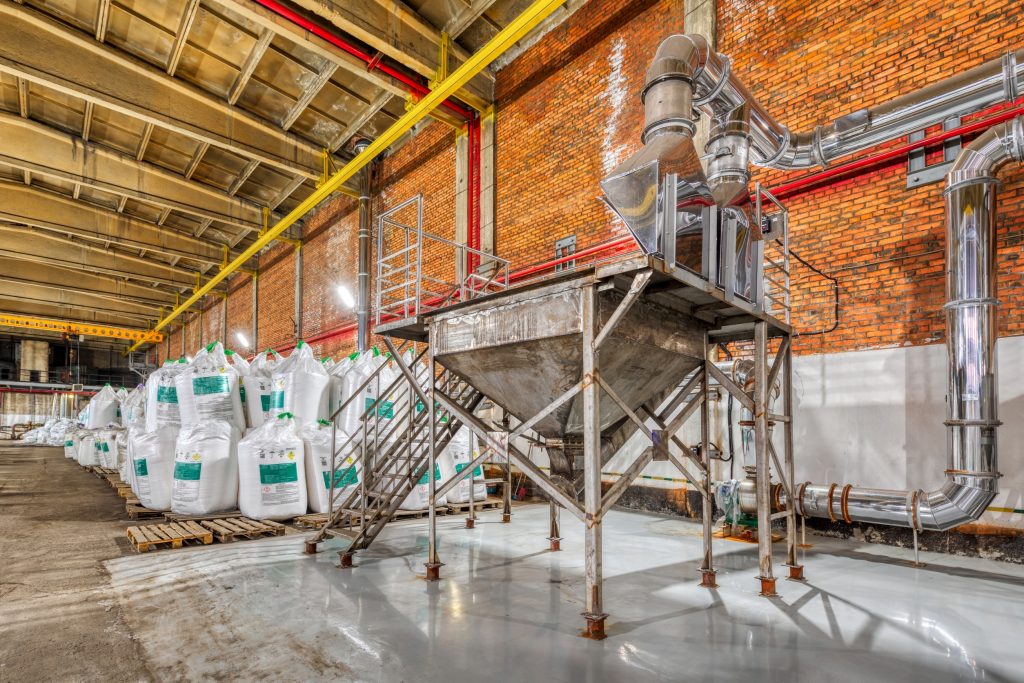 If comic book factories had proper material handling equipment, then villains wouldn't be able to fall into vats of chemicals and acid. Think about it. In all these comic books, there are never any railings to prevent these baddies from falling. Even if there were, the railing is so easily knocked down. There is a plot reason for this lack of safety, however, in reality, companies that produce these items are professionals. Not only would there be railings, but they would be made out of secure and strong materials. That means no chemical baths for supervillain wannabes. It's not just railings either. There are multiple products that belong under the umbrella of material handling equipment.
Tube Bending for Material Handling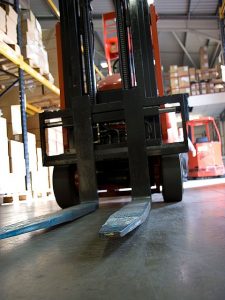 So, let's say you avoid the worst by hiring Detroit Tube Products to make your safety rails. What can other material handling equipment be fabricated for your factory or warehouse? Factories and warehouses often deal the heavy, raw materials. As a result, there needs to be safe and efficient ways to move and store these materials. Tube bending experts usually make modular racks. These racks are made to be strong and lightweight. This allows the rack to shelve raw materials without worrying about breaking under the pressure and being allowed to move. Most of these modular racks are formed so a forklift is capable of lifting the rack safely. These fabrications can move 180 pieces of raw material at a time!
There are also custom fabrications for tubular frame trailers. Some companies use specialized golf carts to maneuver around. As a result, the trailer frame needs unique bends to guarantee its functionality. Detroit Tube Products is capable of doing tube bends for multiple pieces of equipment. Furthermore, we provide our custom fabrications to a variety of different industries. So if you have an application involving material handling and need customized bends let us help! After all, there are enough supervillains around without haphazard fabrications facilitating more.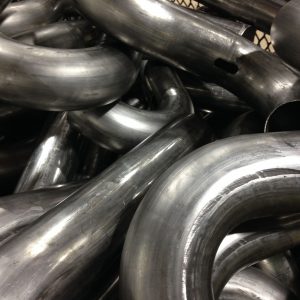 At Detroit Tube Products, custom tube bending is our specialty. In fact, everything we do is custom fabrications. Unlike home improvement like the Home Depot, we do not have a catalog for clients to pick and choose from. Instead, everything is made on your design. Your design, your way. And here's how!
Chose Your Materials
As mentioned above, we aren't your local home improvement store. At a regular shop, people a relegated to choosing between a certain selection of materials. However, that is not the case at Detroit Tube Products. Our inventory allows clients to select all materials used in low-pressure applications. In addition, our company has 316, 304, and 400 stainless steel options in our tubing stock. However, that is not all that you customize.
Chose Your Shape and Size
The beautiful thing about custom tube bending is that you can choose the shape and size of the bend. As mandrel benders, Detroit Tube Products is capable of bending all tube materials and shapes. At our company, the sizes that are available are:
3/4″ to 6″ Diameter Tube Bending Capacity
Severe Radius Capacity Standards – All Sizes
Close Tolerance Available
6″ Outside Diameter 11 Gage Tube or 4″ Schedule 160 Pipe
In addition to an extraordinary amount of size, the type of tube forming that we do is just as large! Some shapes that we can produce are:
Chose the Amount
You might be wondering if custom fabrications mean that we cannot produce a large quantity. However, that isn't the case. At Detriot Tube Products, you can order a single piece to moderate production of 1000 pieces per month. Whatever you need for your project, we are capable of producing. This also applies to our assemblies as well. All of these can be ordered to your specifications!
Custom Tube Bending at Detroit Tube Products
Detroit Tube Products' ability to make custom fabrications for a variety of industries. Whether you are looking for tube bending, tube shaping, or assemblies, we can create every part you need! Since 1911, we pride ourselves in providing the best possible service. With over a century of experience under our belt, your satisfaction is guaranteed. So, call us today or submit a quote!