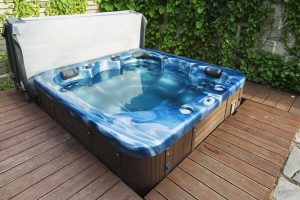 Do you want a pool heater but are unable to get one because of the limited amount of space that you have? Does your Spa installation require special plumbing? Detroit Tube Products specializes in custom tube bending for pool or spa installation. We do bending and fabricating for tubing to allow more condensed pieces to function with the same purpose.
Some homes do not have a lot of room to add a heater to a fresh-water chlorinated pool. At least not in the typical locations like next to the house or in a concealed shed for a heater. Without a natural gas heater, you are losing up to two months of valuable swim time. Detroit Tube Products can help you to work around this. Tight spaces behind your garage that would require tube extensions and custom tube bending, can be designed and built to seamlessly blend into your landscape. Also, depending on heat and cold considerations, spa installation can be on decks, gazebos, or on an enclosed porch. These too often require special plumbing considerations.
Metal Tubing for Better Connections
For example, we can make a flue connection,  an integral component of water heating installations for a natural gas heater so it can fit into a small area on an enclosed porch. We also know which materials to use for the environment, tube connection and tight bends. Many companies make flue pipes out of molded plastic, which is susceptible to melting if installed in a warm climate. Typically, at Detroit Tube Products, we can make something made of metal that is lightweight enough to function properly.  Then create the tools that will form the tubing for a perfect connection. For example; we were able to create tools that bent a 4″ diameter tube, made one end into a neat oval, and flanged that oval end flat.
Standard tubing does not always work under the desired conditions where our custom tube bending will. Generally, standard tubing takes up more space. With custom tubing, we can condense the space required significantly. Most piping companies use molded plastic or rubber tubing in outdoor pool heating systems. As a result, in hot climates, plastic and rubber can melt and corrode faster than the stainless steel tubing for example.
We Make Rails & Ladders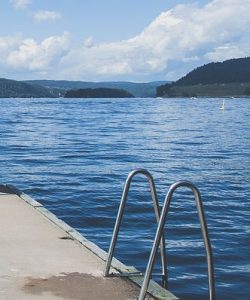 Detroit Tube Products works directly with builders to create custom railings for pool ladders or marina dock access. Also, because all marinas have docks of varied sizes, they need custom materials that are sturdy and corrosion resistant. Our fabricators are experts in using stainless steel tubing and pipes for creating non-corrodible railings. 
Whether you are servicing an in-ground or above-ground pool, or own a Marina, we can create railings for a ladder or deck access that you are guaranteed to love.
If you are looking for pre-built ladders, Sunny's Pools & More has above ground swimming pool ladders in stock at most Detroit area locations.
Do you need custom tube bending for pool or spa installation? Contact us today to get a free quote. Make life easier with help from the experts at Detroit Tube Products!