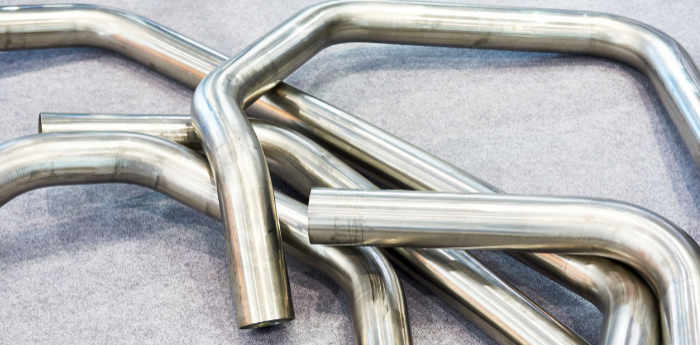 When looking for a stainless steel tubing bender look no further than Detroit Tube Products. At Detroit Tube Products we have been providing professional tube bending services for decades. Also, we have provided our services to a number of industries. Industries such as the automotive and aerospace to name a few.
Benefits Of Stainless Steel Tubing Bender
Stainless steel is one of the best choices of steel due to its resistance to corrosion. Due to its composition, stainless steel has a clean aesthetic that is hard to stain or corrode. Its shiny finish is very reflective giving it a high-end appearance. However, stainless steel is more than its aesthetic. This type of tubing has intense durability and strength allowing it to handle high-pressure applications.
One of the major reasons people need stainless steel bending is for custom exhaust pipes.  If you are building a custom hotrod or motorcycle then you may need custom bent exhausts.  In addition to exhaust, our stainless steel bends are used in other automotive aspects.
Stainless Steel Tube Bending
Detroit Tube Products can provide proper mandrel tube bending.  Mandrel bending is great for industries such as aerospace and medicine. As you can see there are many uses for properly bent tubing. No matter if the stainless steel is welded or seamless we can provide the bends you need. Stainless steel bends can be made in a variety of grades. The steel grades can be 301, 301L, or 301LN to name a few.
As you can see, Detroit Tube Products can handle any type of bend for any type of metal. Square or round, no matter the shape we can bend your tubing. Also, we are ISO Certified and we can provide you with a quote for your next project.  Finally, we service a number of industries and can provide you with the product you are expecting on time and on budget. With over 100 years of experience, Detroit Tube Products is the right call for your next project.
We will supply you with the high-quality parts you expect to receive and provide you with the best customer service in the industry. So call us today at 313-841-0300.