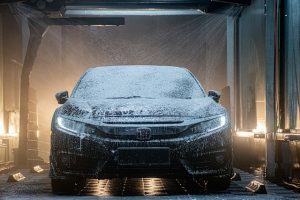 Car wash systems are one of the many industries that Detroit Tube Products services. People use car washes on a regular basis to clean and maintain their vehicles. The industry uses a lot of pipes, assemblies, and custom fabrications to keep car wash systems going. However, what areas of the industry does Detroit Tube Products work with?
Equipment for Washing Cars
First of all, Detroit Tube Products makes equipment for washing cars. One of the ways that our company does this is by creating pipes to transport water throughout the system so it can rinse off the cars. However, this is just not the only equipment that our products are part of. Many of our projects include creating frames through piping, and holding up the various equipment pieces so they can function. Furthermore, piping is also made for an air-blowing system so cars can be dried off properly.
Another piece of equipment that Detroit Tube Product provides is scanner holders. Car washes use scanners to identify and record license plate information. In addition to these holders, our company provides assemblies for attractive poles for RFID readers. So, what types of companies and operations do Detroit Tube Products provide these services for?
Types of Companies and Operations
So, what type of places uses Detroit Tube Products for their car wash systems? Turnkey operations tend to use our services. A turnkey company provides read-made systems to be sold a bought as a complete product. Many of our fabrications are used to make these ready-made systems. This contrasts build-to-order projects, which is another area in which our fabrications are used. In addition to these operations, dealerships, and rental places have their own private car wash systems!
Car Wash System Fabrications at Detroit Tube Products
When it comes to making pipes, assemblies, and fabrications for the car wash system industry, Detroit Tube Products can provide high-quality products for any project. Since 1911, our company has specialized in bending tubes for a variety of end-uses and industries. Over a century of experience has made Detroit Tube Products the best option to source parts. We are experts in tube bending/forming, fabrications, and custom bending!
No matter what industry we serve, Detroit Tube Products believes in providing the best service possible. We can provide an accurate quote for your next project. Simply fill out the quote form and we will respond as soon as possible.