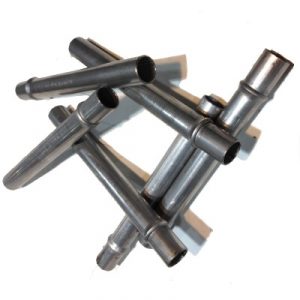 What is tube end forming? Detroit Tube Products does tube forming and shaping for specific fabrications and purposes. Many techniques help to meet specifications. Yet, end forming is the most important. But why?
Tube End Forming
While people focus on other techniques like bending, tube ends are just as important. Also called end finishing, tube end forming is a process that changes the shape of the end of the tube. There are many types of tube endings, allowing for various applications. As a result, this end forming is primarily used in fabrication. End formers allow connections between two different types of media. A great example would be a hose and water faucet. They have specific threaded ends that allow the two media to connect. There are many types of tube endings as well.
Types of Tube Endings
So, what type of tube endings are there? At Detroit Tube Products, we offer reduction, beaded, flaring, and expansion tube endings. All of these endings have specific shapes that make them ideal for certain purposes.
Reduction
The reduction process is applied when a tube needs a smaller diameter on the end. The reduction is typically done so it can fit into the inside diameter of another tube. Since a reduction form ending would be paired with expansion, let's talk about its industries in the next section.
Expansion
Unlike reduction, expansion increases the outside diameter of the tube end. Just like reduction, expansion is used to allow one tube end to fit into another. You can find expansion ending in heat pump assemblies and healthcare equipment.
Beaded
When creating a beaded tube ending, there are two different processes. These processes are known as internal roll forming and ram forming. Regardless of the process, the result is a tube with a beaded end. As a result, the connection made with this tube is stronger. This form ends has found use in connecting with faucets and other appliances and equipment that require a stronger bond between tubes.
Flaring
When you need a connection that is liquid and airtight, then a flaring tube end is what you need. This fabrication method creates a long-lasting seal. Furthermore, you can do a double lap flaring. Double lap flaring adds additional strength to the tube end against fatigue and stress. This means that it would be ideal for plumbing or other liquid transportation.
Tube Ending from Detroit Tube Products
Since 1911, Detroit Tube Products has specialized tube bending for a wide variety of applications and uses. We make custom tubing fabrications for many industries. A century worth of experience and specialized engineering makes Detroit Tube Product the best in the tube bending industry! We are tube forming, fabricating, and custom bending experts. Detroit Tube Product is capable of of virtually all of your bending and fabricating needs!